Dr. Atul Masters, DDS - Mansfield Cosmetic Dentist
Dr. Atul Masters is committed to providing excellence in dentistry, and stands out as a leading dentist in Mansfield. The doctor uses the latest in dentistry techniques to provide you with a beautiful and healthy smile. Additionally, Dr. Atul Masters believes strongly in education to prevent oral health problems before they occur, and makes sure to keep patients fully informed about their dental health. Read more about Mansfield dentist Dr. Atul Masters below.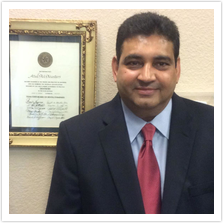 Dr. Atul Masters DDS.
Thank you for your interest in our Mansfield dental practice. The entire dental staff is dedicated not only to restoring patient's teeth and gums to health, but focuses on preventative care and patient education. Our office has a small, friendly atmosphere that puts our patients at ease. You will not find a crowded waiting room or have trouble scheduling timely appointments at this Mansfield dental practice. Our practice has numerous specialties including Esthetic and Cosmetic Dentistry, Root Canal Therapy, Crown and Bridge, Dental Veneers, Teeth Whitening, Porcelain Crowns, Periodontics, Prosthetics and Limited Orthodontics.
Sincerely, Dr. Atul Masters